Let's take a look across the departments of the Bad Kleinkirchheimer Bergbahnen.
The Bad Kleinkirchheimer Bergbahnen. Skiing area. Thermal Römerbad. Kaiserburg Bob. Hiking and biking experience. With our variety of offers, we create unique moments for both young and old. And with our infrastructure we support economic development in the surrounding area. But what's actually behind our corporate group? And who keeps our cable cars, snow groomers and adventure facilities running?
As CEO of the Bad Kleinkirchheimer Bergbahnen, I am pleased to take you on a tour of our various company divisions today. Let me introduce ourselves!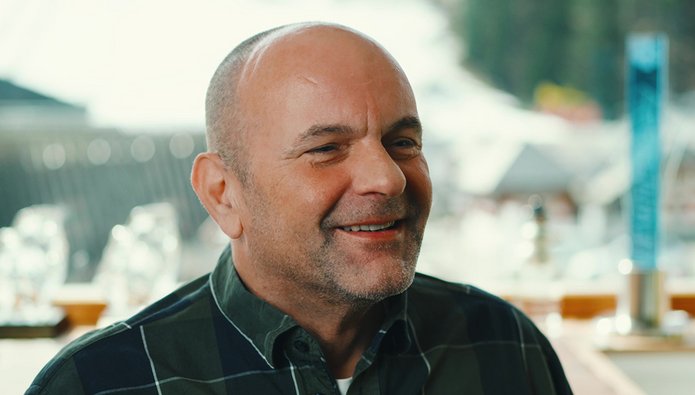 Back in the day.
What began in 1956 as a small ski lift company has today grown into Carinthia's largest single cableway company. We've always appreciated that the unique natural landscape of the Carinthian Nockberge and the hospitality of the local people are valuable drivers of development for the region, but also for our company.
Today the Bad Kleinkirchheimer Bergbahnen group stands for a diverse and modern range of experiences around the themes of skiing, hiking, biking and wellness.
And in doing so, we also make a significant contribution to creating value in the surrounding area. After all, we not only focus on the efficient management of our facilities, but also continuously take care of the implementation of innovative projects on site. In the last six years alone, we have invested around € 30 million in the tourist location of Bad Kleinkirchheim, from which locals and guests alike benefit.
More than a job.
As a leading Carinthian cable car company, the Bad Kleinkirchheimer Bergbahnen are also one of the largest employers in the region. Around 160 employees in winter and 65 in summer ensure the smooth operation of our cable cars, the Thermal Römerbad and the wide range of adventure activities. We're also incredibly grateful to our employees for the positive development that our company group has gone through so far.
It's particularly important to us that each and every team member sees themselves as a valuable part of the greater whole. After all, working at the Bad Kleinkirchheimer Bergbahnen means much more than 'snuffing hangers' or 'waving towels'. Whether working at lofty heights in the midst of the Carinthian mountain panorama or in the technical depths of our systems. With a beaming smile in sales or as the relaxation guru in the Thermal Römerbad. The activities in our infrastructure areas could not be more varied. Find out what they are in the following:
1. At the cable car.
A number of highly technical systems and machines make up the heart of the Bad Kleinkirchheimer Bergbahnen: from the cable cars and lift systems, to the snow-making technology and the vehicle fleet. In order to guarantee you a safe mountain experience, our cable car team ensures the flawless operation and regular maintenance of the facilities. This includes the maintenance of the Kaiserburg Bob, the Flow Country Trail or the Mountain Yoga Trail. And usually they get to be the first on the mountain!
2. In the Thermal Römerbad.
In the Thermal Römerbad, our employees create unique moments of well-being all year round. Whether as a heat-maker in the sauna, with magic hands on the massage table or with a full view in the maintenance of the operating technology - relaxation is pre-programmed in this area.
3. In administration.
The administrative department is the strategic centre of Bad Kleinkirchheimer Bergbahnen: from accounting, controlling, payroll to sales, marketing, data management to it, technical operations and the secretariat. To ensure that everything runs smoothly, it's important to maintain an overview, to think ahead and to be in constant contact with colleagues, customers, partners, suppliers and authorities
Better together.
It takes quite a lot of departments to keep our Bad Kleinkirchheimer Bergbahnen up and running. In order for the interaction to function perfectly, our teams work in close coordination with each other. This team spirit runs through the company and also across generations. Whether 16 or 62 years old, whether at the beginning of an apprenticeship or shortly before retirement - we all know that we can only develop our potential through motivated teamwork.
Sitting at a desk all day – no thanks!
But enough about us. How about you? Would you like to be a part of our team at the Bad Kleinkirchheimer Bergbahnen? Let me tell you how that'll work:
Onboarding 2.0
From day one, we strive to integrate you into our internal processes in the best possible way. In addition to the personal exchange, we communicate via an employee app. Here we share updates from the management, organise duty rosters and inform about current technical disruptions. Using the chat function, all employees can exchange information with the entire team, organise a ride or share a photo from their daily work routine.
Lateral entry? No problem.
Interested in a particular area of the company, but don't have the right qualifications to apply? A wide range of further training opportunities allows you to expand your skills and, if you wish, to switch to another position in the company.
Work, where others go on holiday.
There is a wide range of adventure and leisure activities in the immediate area. As an employee of Bad Kleinkirchheimer Bergbahnen, you will not only play an active role in shaping this offer, but you will also be able to use it free of charge or at a reduced rate during your free time. Because we know how important a good work-life balance is for your performance and motivation! Of course, you can also expect many other benefits, such as a free employee shuttle, attractive discounts with many partners and even accommodation on site if required.
So what's the deal? Are you ready for a job with great perspectives? For relaxed work in a great team? In the middle of the smooth Carinthian Nockberge? Then take a look at our german job page. There you will find a lot more information about working at the Bad Kleinkirchheimer Bergbahnen as well as all current job advertisements. No job suitable for you at the moment? Drop us a line anyway. We are definitely looking forward to getting to know you and are sure we can find the right position for you soon.