Dancing with the cable rope: The profession of a cableway technician
"Pushing away the cable car hanger" was yesterday. The common job description of the "ski lift operator" as someone who hands skiers the T-bar hangers, has long since become obsolete. Today's cableway technicians are in high demand as specialists for complex cable car and lift systems in ski resorts. But what is this occupational field all about? What opportunities are there after completing an apprenticeship? And why should cableway technicians have a head for heights? Our apprentice Sarah takes you behind the scenes of her apprenticeship at the Bad Kleinkirchheimer Bergbahnen. Get ready!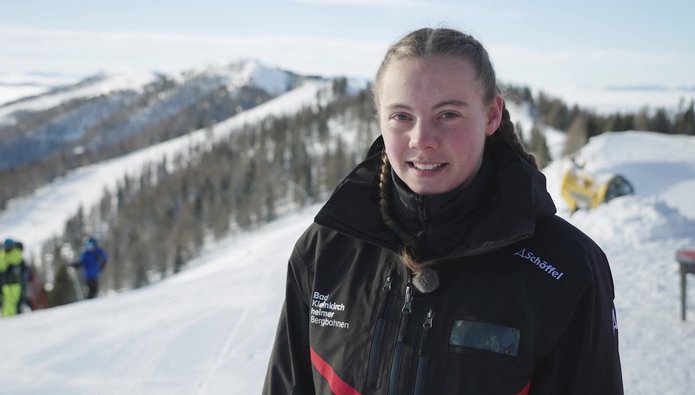 An apprenticeship with the best prospects.
Women are still outnumbered in technical professions. That's why here at Bad Kleinkirchheimer Bergbahnen we're all the more pleased to have some female support in this male-dominated professional field.
Sarah Roth is in the first year of her apprenticeship as a cableway technician at Bad Kleinkirchheimer Bergbahnen. Over a period of 3.5 years, we will train her as a technical specialist for our facilities. Aside from operating and maintaining the cable car systems, the areas of nature and weather studies, piste construction and preparation, snow production, economic efficiency and dealing with people also play a major role in their training.
No two days are the same.
Every working day looks a little different for Sarah – from revision, workshop and snowmaking work, to lift maintenance and support checks, to exciting insights into the work of piste rescue services. And as you can perhaps already imagine: crystal-clear air, warm sunrays on her skin and magnificent views of the Nockberge are some of the perks of her job.
Fun Fact: Sometimes, Sarah has probably the most unusual method of travelling home from work, because her best friend picks her up by horse every now and then. Think of it as an environmentally-friendly shuttle service! ;-)
Learn, learn, learn.
In addition to the practical training, Sarah also has to go to school. Classes are held in blocks at the Landesberufsschule Hallein. This is considered the centre of competence for cableway technology throughout Europe. Sarah not only learns technical know-how about cable cars and lifts, but also relevant background knowledge about circuit diagrams and construction drawings or the right way to maintain the slopes.
The topics of nature and the environment are increasingly coming into focus in the cableway industry. The sustainable interaction of nature and technology, as well as the theoretical basics of snowmaking, weather and avalanche science, therefore also play an important role in the curriculum in Hallein.
Sarah can put her newly acquired knowledge directly into practice in the 5,600m² of the Landesberufsschule Hallein, where she has access to excellently equipped workshops with original cable car systems, ski lifts and snow groomers.
A double portion is better.
In line with the ongoing technological development, the demands on cableway technicians are also becoming more and more complex. In order to be able to respond even more specifically to innovations in cableway construction as a specialist, it's possible to complete a double apprenticeship as a cableway/electrical technician. After completing her regular apprenticeship, Sarah would also like to take advantage of this opportunity and is aiming for the half-year additional training including an apprenticeship diploma in electrical engineering.
By the way: No previous technical knowledge is required for the apprenticeship as a cableway technician. It's important that you're willing to learn something new and enjoy working in nature and in the skiing area. However, some of the activities require you to have a head for heights. As an employee of Bad Kleinkirchheimer Bergbahnen, you also benefit from many advantages: from the free season pass and private use of all our leisure facilities around skiing, relaxing, biking and hiking, transport to the workplace and we even provide you with high-quality work clothing. It's fun and gentle on the wallet.
Sounds interesting? Then take a look at our job page. There you will not only find all the information about the job, but also an overview of all the other employee benefits that await you at Bad Kleinkirchheimer Bergbahnen.
Our common future.
As a leading Carinthian cable car company, we also bear a lot of responsibility in terms of sustainability. Through innovative projects and numerous investments, we are making our contribution to a green future. This also supports our apprentices. After completing their apprenticeship, a wide range of further training opportunities are open to them – up to and including the position of an operations manager. In this way, they can take on team leadership and responsibility for certain areas of the company and their future-oriented development.
Still not sure?
In order to get to know the profession, we regularly offer interested children and young people the opportunity to get a glimpse of our company and the work as a cableway technician. Sound like something for you or someone close to you? Then simply write us an email at jobs@ski-thermen.com.