What does it take to start the season?
Are you already dreaming of the soft crunch of snow under your skis? Of fantastic downhill runs on perfectly groomed slopes? And of adventurous skiing experiences with the whole family? Good news, because the wait will soon be over! On 9th December 2022 we are starting our winter season in Bad Kleinkirchheim's skiing area.
However, there are still a few things to get done before the perfect start to the new season can begin. Have your skis been serviced yet? Anything missing from your wardrobe? We asked Arno Gruber jun. from Intersport Gruber in Bad Kleinkirchheim what the perfect preparation for the start of the season can look like. Onto the slopes, set, go!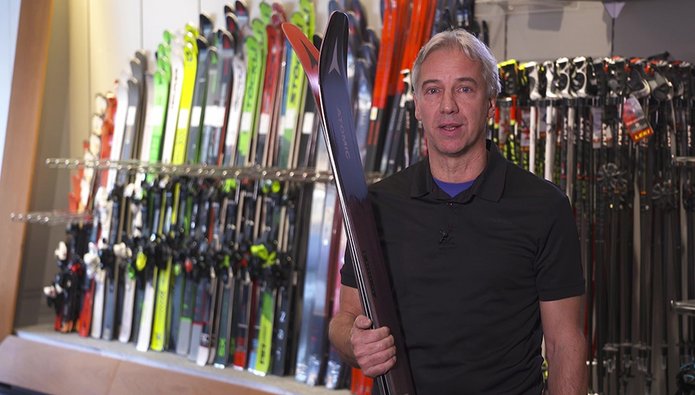 Fit for the ski season.
The excitement for the first day on the slopes is great. However, aside from the right equipment, your physical fitness is the first priority. After all, skiing is quite a demanding sport. And a certain basic level of fitness is required for you to carve down the slopes safely, even at high speeds. In preparation for an injury-free winter season, you should not neglect a balanced strength and flexibility training – the well-known "ski gymnastics". With a bit of basic stamina, long days of skiing are more fun anyway, aren't they?
Is your body ready to make the descent? Then it's time for your equipment to do the same.
Sharp, sharper, ski edge!
Waxed surfaces and sharp edges are essential for safe fun on the slopes and must definitely be touched up after the summer months. Especially at the beginning of the season, it's a good idea to take your skis to the sports shop for a professional ski service.
If your skis are damaged or no longer meet your skiing level, you should consider buying a new pair. For detailed advice and lots of tips on buying skis, it's best to contact your favorite ski shop.
Happy feet.
A ski boot that fits perfectly not only makes your feet happy, but also protects you from injuries. Having a firm shell is particularly important. Before you set out on your first day of skiing, check your ski boots for cracks and make sure that all buckles close smoothly. The sole is also essential. If the sole is badly worn out, the force can no longer be transmitted properly, which means the binding no longer does its job right. The rule of thumb is: ski boots that are more than 10 years old should be replaced.
Underestimated guardian angel.
The ski binding – also called a safety binding – is not only extremely complex in design, but also particularly important for your safety on the mountain. After all, it ensures that your ski boot remains firmly anchored even in sharp turns and bumps. In the event of a fall, however, it must also bounce at the right moment to prevent injury. To guarantee this safety function, both the screws and the brake release mechanism must work perfectly too.
Usually, when you buy a new binding, it's adjusted to fit you perfectly. There are several calculation methods for this, which take into account body weight, height, shoe sole length and riding style, among other things. From this, a so-called Z-value is determined. This specifies the force at which the binding is to be activated. Just like your skiing style, however, this value can also change over time. That's why it's important to have the binding setting checked at a specialist shop at least once during each season.
The general rule is: after a serious fall, you should always have your skis, boots and bindings examined by the professionals in the sports shop!
Better safe than sorry.
Unfortunately, fun on the slopes also holds dangers, such as falls or impact accidents. 80% of head injuries can be avoided by wearing a helmet. But this only works if your helmet also has an optimal protective function. Before using your ski helmet for the first time in winter, check it thoroughly for any cracks or damage. Approximately eight years after purchase, as well as after a heavy fall, you should definitely replace it.
All good things come in threes.
This also applies to skiwear. Whether you're a trendsetter or a fashion pragmatist, skiwear today is not only stylish but also highly functional. The three-layer system promises long skiing days without freezing. After that, the ideal outdoor outfit is made up of the following garments:
Breathable base layer that draws perspiration away from the skin
A warm mid-layer that won't let you freeze even in cold temperatures
Water-repellent or waterproof shell that protects you from snow, wind or rain
Pay particular attention to the right care of your outer shell clothing. Normally it's enough to air out the clothes and let them dry well. For heavy soiling, it's best to use special detergents and wash your clothes on the delicate cycle. But be careful: do not use fabric softener and be sure to freshen up the waterproofing after washing!
Is anything else missing?
Is your equipment ready for the ski season? Great. But maybe you've also noticed that you still need one or two other items before you can hit the slopes in Bad Kleinkirchheim's skiing area again. In any case, it's worth taking a look at the trends and innovations on the market.
Everyday ski boots.
The liberating moment of peeling off one's ski boots after a strenuous day on the slopes is something every skier knows. This is where Snowboard boots are much more comfortable… but now both freedom and flexibility are promised by the revolutionary DAHU ski boots. At the core of the boot is a comfortable and everyday shoe with a winter-ready sole. For skiing, you simply slip into the hard plastic shell and transform your winter boot into a fully functional and robust ski boot. Available, for example, at Intersport Gruber.
Smart clothing on the slopes..
It's all about the underwear, because the trend of 'smart clothing' has also arrived in skiing. This is when sensors or conductive yarns are incorporated into a garment to collect data about athletic activity. The goals are manifold: from monitoring health aspects, to optimising training in professional sports, to intelligent airbag systems.
On the slopes, the possibilities for smart gadgets are almost endless: heated ski socks to protect against cold feet, special ski boot insoles for assessing your skiing style or GPS ski helmet with integrated camera for the best way to track your ski day.
With these tips, you are hopefully well prepared for the ski season. For us, there's only one thing left to say: we look forward to welcoming you back to the slopes in Bad Kleinkirchheim's skiing area soon!