A proper warm-up and stretching are the keys to preventing injuries and ensuring success. This is true of any sport but is particularly essential for skiing.
With a perfect ski slope spread out before you, it's understandable that your first instinct might be to ski straight down. We get it, and don't let us stand in your way. But even though the Bad Kleinkirchheim ski resort is already loudly calling your name, you should nevertheless take a few moments to prepare yourself, just like the pros do, in order to fully enjoy skiing both injury free and for the entire day.
5 reasons why warming up is important:
Body temperature: Warming up allows you to heat your body up to operating temperature.
Muscles: Warming up supplies your muscles with oxygen and nutrients. This makes them more supple and can prevent injuries.
Joints, tendons and ligaments: Warming up also gets the entire musculoskeletal system going and activates synovial fluid so that the cartilage can receive valuable nutrients.
Metabolism: Your metabolism receives a boost during warm-up and becomes prepared for the increased energy demand.
Cardiovascular system: Warming up also gets the cardiovascular system going, increasing the heart rate and getting more blood moving through the body.
Downward-Facing Dog Pose on the mountain
Has a long day of skiing put a lot of strain on your legs? After skiing or snowboarding, stretching and mobilisation exercises as well as a visit to the saunas of the Thermal Römerbad spa are ideal for relaxing tired muscles. Yoga exercises, otherwise known as asanas, are a great way to unwind after a day of skiing in Bad Kleinkirchheim - or also to strengthen the muscles in your legs as a preventative measure, as Anja, our yoga instructor, demonstrates in her video.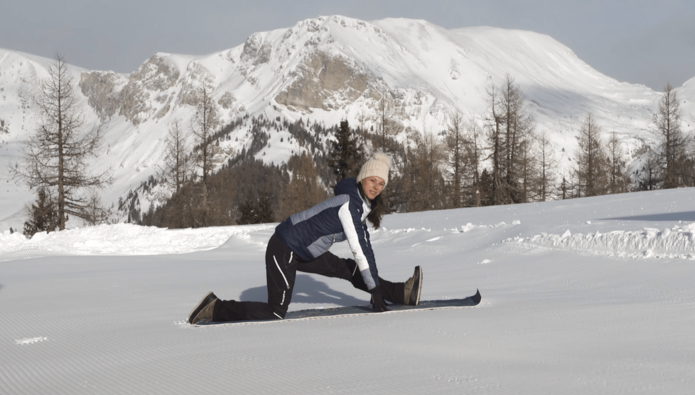 Lunges with bent and extended knees stretch both the front and back of the legs and can be performed directly after the last downhill run while still wearing your ski outfit. A relaxing yin yoga session with long stretches is suitable in the evening after a warm shower or a sauna session in the Thermal Römerbad spa.
Namasté from the Bad Kleinkirchheim ski resort.