My first time on the Flow Country Trail
Have you ever experienced it? That final moment before you release the breaks and your wheels start rolling downhill? The tingle in your bones before you start pedalling? That shout for joy that overcomes you in the valley?
No? Well, then let's get going! An adrenaline kick with a view awaits you on Europe's longest Flow Country Trail in Bad Kleinkirchheim. We have summarised the most important information for your adventure on the trail. So put on your protectors and let's go!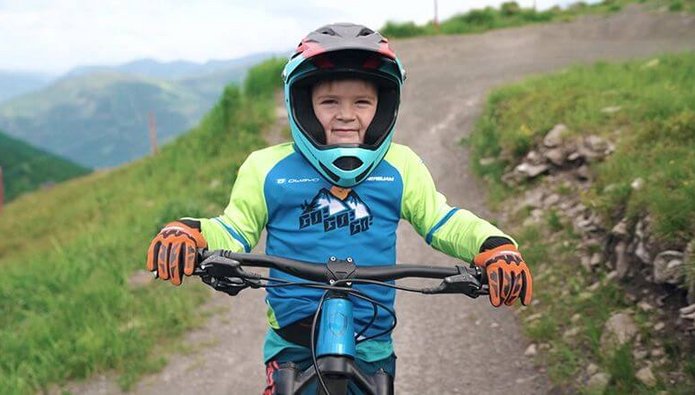 15 km full of excitement.
A variety of pumps, small jetties and exciting steep curves – enjoy 15 kilometres with a gradient of up to 8% as the Flow Country Trail winds its way down into the valley. From the Kaiserburgbahn mountain station at 2100 m, the trail descends about 910 m in altitude through forest and meadows. On the four sections of the trail, there are numerous diversion options, so that a seemingly endless riding experience is possible for every level and speed.
Bike basics: The right outfit.
Whether you're a downhill rookie or a professional mountain biker, the right protective gear is a must. In addition to a (full-face) helmet, goggles and gloves, protectors on knees, elbows and torso ensure your safety on the trail. Shoes with a good profile and flat sole, long pants and a longsleeve complete your perfect mountain bike outfit.
Downhill, Fully, Enduro... Wait, whaaaat?
Already feeling overwhelmed by the biker jargon? Let us shine some light into the darkness: Downhill bikes or modern enduro bikes are suitable for rapid downhill fun in all of Carinthia's bike parks. These are specially designed for the unique requirements and high speeds of the trail and promise an extra dose of biking fun.
But what's so special about them?
Downhill bikes are full-suspension mountain bikes (also called "fullies" for short). In addition to the suspension fork on the front wheel, these bikes also feature a rear shock at the back, which absorbs a great deal of the unevenness and lets you glide smoothly over hill and dale.

As a newcomer to the trails, a "fully" is your best bet. The bike's secure steering and forgiving handling become immediately apparent and allow you to become more confident on the bike every time you ride. Keen to get started right away? There are several bike rental and bike service stations in and around Bad Kleinkirchheim.
Let's hit the trails.
Now it's getting serious. There's no need to pedal to the top. The Kaiserburgbahn will bring you comfortably and effortlessly up the mountain. When boarding the cable car, look for the special bike cabins marked with a sticker on the window. Our cable car team will be happy to assist you with loading and unloading.
The right posture is key.
Unlike a leisurely Sunday ride, there's no saddle squatting on the trail. Instead, you stand on your bike with your body slightly leaned forward, arms lightly bent, elbows pointing outward. The pedals are in horizontal position, as you place your feet on them with your heels slightly pushing downwards. Your main leg should be in front and ready to push. Pedal once and off you go: as you gain speed, your knees remain slightly bent. Keep one or two fingers on the brake at all times and look ahead.
Nobody is an amazing biker their first time out, so you should practice the mountain bike basics on flat terrain first. Check out the bike parcours right next to the valley station of the Kaiserburgbahn. This area is ideal for your first practice attempts.
By the way: For even more riding fun, the nock/bike center offers professional technique training and varied guiding. The trained staff is also available at any time with useful tips and tricks about mountain biking.
5 tips for your first time out.
It's normal to be intimidated by the trail – and it's important!
Focus and off you go! Don't lose your nerve, but also don't overthink.
They say practice makes perfect, and this also applies to biking.
Give yourself breaks and don't overexert yourself.
And finally, the most important thing: have fun!
Done and dusted.
After a dusty day through forest and meadow trails, your bike deserves a thorough cleaning. A washing area is located directly at the valley station of the Kaiserburgbahn. Noticed any damage while cleaning your bike? Don't worry, there's an emergency bike repair station at both the bottom and top stations. These stations are equipped with the most common tools for your bike. After a quick repair, you'll be back on the trails in no time!
Feeling the thrill? Well, then look forward to your next mountain bike adventure on the Bad Kleinkirchheim Flow Country Trail. By the way, as a partner of the Bike Card Kärnten and the Gravity Card, you will find many more bike offers in and around the Bad Kleinkirchheim region.