PART 1: When 1 day is not enough: Adventures on the Kaiserburg and Brunnachhöhe.
SHEER ENJOYMENT.
Breathtaking 360° views of the mountain panorama, hundreds of kilometres of hiking and cycling trails and a colourful range of experiences for kids and adults alike – our Nockberge mountains have a lot to offer. As you're drawn into their spell, you'll soon realise: a day-long excursion is definitely not enough to explore all this diversity.
Which is why over the next few weeks, we'll be sharing three fantastic tours and activities around the Bad Kleinkirchheimer Bergbahnen. Starting off with a hike for those who love to take a leisurely time-out in the mountains.
THE FELDPANNALM CIRCUIT INCLUDING SPEICHERSEE KAISERBURG.
– A leisurely hike across mountain ridge, forest and meadow.
8.5 kilometres | approx. 600 m altitude uphill | approx. 600 m altitude downhill | 3.5 hours
Start and end point: Kaiserburgbahn summit station
Route: Kaiserburgbahn summit station – Wöllaner Nock – towards Feldpannalm – Wegerhütte – Flow Country Trail junction – Speichersee Kaiserburg – Kaiserburgbahn summit station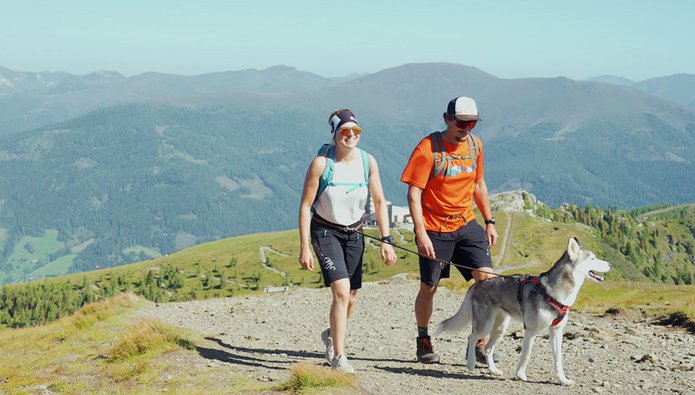 The route starts off at the Kaiserburgbahn summit station. No need to worry about steep hikes since the circular trail takes you past the Wöllaner Nock summit (2,145 m) and across green meadows towards the Feldpannalm. It's not unusual to come across the occasional cow or sheep grazing happily along this route. And if your own appetite then comes knocking, a pit stop at the sunny terrace of the Wegerhütte is well worth it.
After refuelling your energy reserves, you then follow the Feldpannbach stream back towards the starting point, the Kaiserburgbahn summit station. Towards the end of the hike, the trail intersects with the Flow Country Trail – Europe's longest flow trail. And if you want you can enjoy watching the exciting spectacle of the bikers' adrenaline-charged descents.
Still have a bit of energy left in the tank? Then we recommend a quick detour to the Speichersee Kaiserburg. On the short circuit around the Speichersee, a fabulous panoramic view across Bad Kleinkirchheim is waiting for you and on clear days you can even see as far as St. Oswald. A wonderful excursion and hiking destination for those who enjoy a leisurely hike.
Our tips for a successful hike.
It goes without saying that you should only take the essentials with you on a hike – after all, if your backpack is heavier then you'll be more easily tired out. However, some items are an absolute must as part of your hiking gear:
Weatherproof clothing: The weather in the mountains changes quickly, and it can get quite chilly at high altitudes. So make sure you always take a lightweight wind or rain jacket.
Drink enough: During hikes in summer and longer hikes in particular, you shouldn't underestimate how much fluid your body needs.
Snacks for on the go: The next hut is not always right around the corner, and it's no fun hiking on an empty stomach anyway. And let's be honest: a snack at the summit is an essential part of the perfect hike.
Sun protection: Hiking trails often lead across meadows and tracks with almost no shade for several hours. So always remember to pack a cap and plenty of sunscreen.
The route: Good planning is half the hike. Check the route before you go and make a note of certain points along the way. Ideally, you should always have the map with you in printed or digital form.
Sturdy shoes: If you don't want to end up with wet socks or blisters on your feet after the very first day, it's best not to skimp on hiking shoes.
Feeling prepared? Then nothing's stopping you from getting started on the first of three glorious hikes in the Carinthian Nockberge mountains. Still hungry for more? Then check out our diverse range of leisure and adventure activities around the Bad Kleinkirchheimer Bergbahnen – from action-packed downhill descents in the Kaiserburg Bob to fun times at the Aktivpark to feelgood moments at the Thermal Römerbad. We look forward to welcoming you.