Top family skiing area in Austria
The Kidsslope Bad Kleinkirchheim - the great ski adventure with Nox & Nixi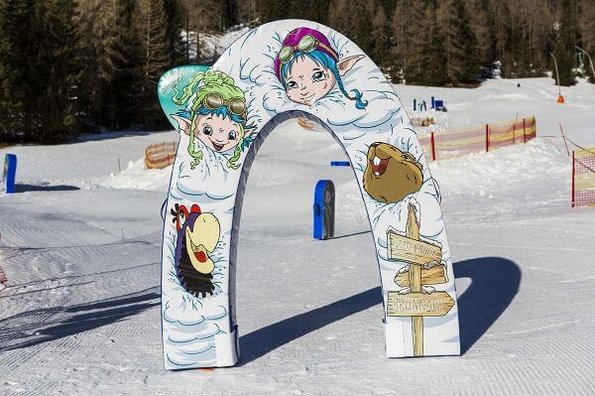 Dear parents listen up: In Bad Kleinkirchheim fun has reached a whole new level! The sparkling new Kids' slope with its funny residents will definitely put a bright smile in every child's face! Unforgettable days with Nox & Nixi on the slopes are guaranteed, when the Kids' slope will turn everyday into a playful adventure for the small and smallest ones.


The snow paradise in Kärnten's Nockberge mountains will be presented even more attractive and child-friendly in the winter season of 2017/18, as it will be enlarged by the adventure highlight Kids' slope Bad Kleinkirchheim.
The idea behind it is simple. The Kids' slope is pure amusement for the youngest and their older siblings. The perfect photos when the kids whizz over the waves or test some banked turns will be delightful for the family album. Nox & Nixi, the two mermaids, will stay steadily at your side. Normally home-based in the thermal springs of Bad Kleinkirchheim, they both enjoy the sparkling snow as much as you do. Together with ski instructor mountain rooster Brunno and their other friends from the UNESCO Biosphere Reserve Carinthian Nockberge, they learn how to ski in the Funslope. This is safe and child-friendly slope fun! The Kids' slope is easily accessible, located right next to the Sonnleiten-Lift, in a terrain ideal for beginners. Between trees, small cottages and masses of snow, the Kids' slope tops off the alpine adventure with "Alpe-Adria-Flair". After an incredible load of fun, the options to fuel up with new energy are vast. Lots of rustic cottages are conveniently located to satisfy your tummies before heading back for another run in the Funslope. It's not unusual that while you are having a relaxed evening in the Spa of Bad Kleinkirchheim, the kids still sparkle with enthusiasm from their adventurous day with Nox & Nixi.